ENTREPRENEUR BRAND ACCELERATOR EVENT
BEING GOOD
AT WHAT YOU DO IS NO
LONGER ENOUGH
IN THE NEW ECONOMY
Despite a lifetime of hard work, small business owners, consultants and 'corporate escapees' often find themselves underpaid, undervalued and under recognized.
Over 8 hours, each speaker will deliver a potent 40 minute talk to arm you with simple and proven methods for becoming highly valued, highly paid and recession proof no matter what your industry of expertise.
Remember, in the ideas economy, building a thriving business based on your skills, talents and expertise won't happen by itself. It takes preparation and design to get it right.
LEARN THE FIVE STEP SEQUENCE
You need a PERFECT PITCH
In today's market, being remarkable is essential.
If you don't have an amazing pitch, regardless of how
great your product or service is, you will always struggle.
The KEY PERSON OF INFLUENCE WHEEL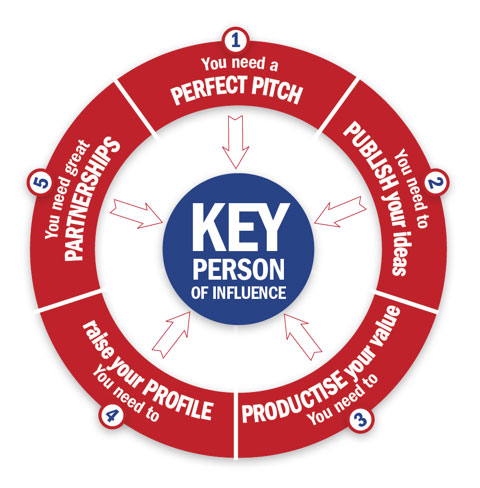 MEET OUR WORLD CLASS SPEAKERS
LEARN FROM THE BEST:
OUR HIGH
PERFORMANCE
BUSINESS LEADERS
SHARE THE POWER OF THE FIVE STEPS
The art of the
PERFECT PITCH
Do you have a compelling answer if we asked you
'What do you do?'
In today's market, being remarkable is essential. If you don't have an amazing pitch, regardless of how great your product or service is, you will always struggle
Cory Bergeron
The president and founder of Pitch Video, has sold well over 200 items on
television networks and has grossed over $100,000,000 in sales in just
the past 5 years. He is best known to television audiences as HSN's
all-American dad, a family man and expert on household solutions,
lawn and garden items and electronics. In addition to his extensive talent
resume', Cory has decades of experience in video production.

Having had great success as a videographer, audio engineer, stage manager
director and producer, Cory understands what can be accomplished
on both sides of a lens, making him a valuable and a rare asset
to his clients. Cory has directed and produced videos for some
of the largest corporate giants in America, including Canon
Alcon pharmaceuticals, Motorola, Dunkin Doughnuts
and Xerox, just to name a few.

Aakash Patel
Guest Speaker, Profile
Aakash Patel is the founder of Elevate, Inc., a Florida-based strategic business consulting firm providing public community relations, target networking and social media. In 2013, the FSU Alumni Association named Patel as one of their top "Thirty Under 30" alumni.

Aakash was cited as one of Tampa Bay's Up & Comers by the Tampa Bay Business Journal in 2008, and featured as a "Rising Star" by the Tampa Bay Times. Additionally, he was denoted in The Tampa Tribune as one of "Tampa's Networking Heavyweights", and in the Tampa Bay Business Journal as "Tampa's Master Networker".
ENTREPRENEUR BRAND ACCELERATOR BOOKING
DO ONE
IMPORTANT
THING:
BUILD SOMETHING
YOU'RE PROUD OF
This one day event introduces you to the ideas and strategies you will need to turn your skills, talents and experience into a profitable business and a remarkable brand in the ideas economy.
We are confident that we will surpass your expectations or we'll give your money back - guaranteed!
Keep updated with KPI events, and receive some great freebies!
The NO SALES PRESSURE PROMISE
"We understand that many people are tired of attending seminars with the hopes of receiving great information only to discover that the day is filled with very little value, and a constant barrage of sales pitches. At this program, you will be delighted to know, that none of our speakers will be selling anything from the stage. What this means for you, is that you will receive eight solid hours of great ideas, easy-to-implement strategies, and real life recommendations from people who have actually walked in your shoes and achieved success beyond measure. Our attendees are some of the most discerning, successful business owners and they don't have time to waste a day with empty sales pitches. Just read the comments below from people who have attended and you will see that our event is a breath of fresh air in the business development arena."
HERE'S WHAT PAST ATTENDEES HAVE TO SAY